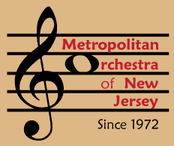 Home | Concerts | Personnel | Rehearsals | Openings
Support for the Metropolitan Orchestra is Tax-deductible!
An all volunteer non-profit orchestra that posts no admission charge has real operating expenses in order to continue functioning, including modest payments to our professional conductor, concertmaster and guest artists, rehearsal and performance space rental fees and costs for sheet music and occasional added musicians required by the musical scores. Tax-deductible donations from people like you will enable this cultural group to continue to bring musical programs to this community. Your generosity in the past has enabled the Metropolitan Orchestra of New Jersey to present three concerts each year. Without your support we cannot continue to do so. All donations will help!
Donations of $50 and more will be recognized in future programs. Please include your name as you would like it to appear in the program and return it with your generous donation (checks payable) to: Metropolitan Orchestra of New Jersey at P. O. Box 155, Livingston, New Jersey 07039. We would also appreciate having your e-mail address, so that we can send you notices of our future activities.
Donation categories are as follows:
| | |
| --- | --- |
| Angels | $1000 and above |
| Benefactors | $500 to $999 |
| Supporters | $250 to $499 |
| Contributors | $150 to $249 |
| Friends | $100 to $149 |
| Helpers | $50 to $99 |
Donations of your time as Orchestra volunteers are also welcome. You can contact us at info@metropolitanorchestranj.org or call 848-702-3538.
© Metropolitan Orchestra of New Jersey